Data that is fragmented — siloed, duplicated, and scattered like leaves — is data without purpose or impact. 
A clear, comprehensive understanding of the data at an organization's fingertips is essential to extracting its value and deriving insight to further innovation, boost customer engagement, and gain a competitive edge. But when data is spread haphazardly across different systems and locations, there is precious little value to be extracted, and even less strategic progress to be made.
Fragmentation poses particularly significant headaches for federated nonprofits — organizations with dozens or hundreds of affiliates, each with its own data sources and systems. Many leading federated nonprofits are addressing the fragmentation challenge head-on, embracing an automation strategy commonly known as data extraction, transformation, and loading, or ETL. This approach processes and integrates data from multiple channels into a centralized warehouse, democratizing access and insights across affiliates.  
Civis Analytics has worked alongside unions, international NGOs, and fundraising groups on a wide range of data centralization projects — and we can centralize your organization's data, too. 
We designed and built our cloud-based Civis Platform to automate the ETL process, enabling organizations to import, deduplicate and unify data from multiple vendors — everyone from Salesforce to Blackbaud to third-party data sources including NGP VAN — and to configure pipelines for cleaning and preparing all that data in one central location. Federated nonprofits can use Civis Platform to develop a much deeper, data-driven understanding of their supporters and how they engage with the organization's campaigns, optimizing the supporter journey by pinpointing the most critical moments. They also can gain new clarity into which programs resonate most strongly with those supporters, yielding more persuasive, cost-efficient outreach.
"We enter every client engagement with a very high baseline knowledge of nonprofits — what their priorities are, and what disparate tools and platforms Civis Platform can link together," says Nathan Moore, Civis's senior business development manager for the nonprofit sector. "We've done the thinking and the legwork already to figure out how to pull in Salesforce and the constellation of other tools a nonprofit might use, and we come into client engagements with a white-glove approach that is informed by having already done a number of these projects for some of the largest and most successful nonprofit organizations."
Those organizations include Human Rights Campaign, the nation's largest advocacy group dedicated to LGBTQ equality. HRC partnered with Civis in 2017 to ensure the accuracy and usefulness of the growing volume of data flowing into its CRM from numerous apps and platforms — everything from fundraising and contact information to event ticket sales and volunteer activity. HRC and Civis developed an integrated system tying individuals to their data across all HRC inputs, leveraging core Civis Platform technologies like Identity Resolution (IDR) to create a unified and automated source of truth: no more duplicates, no more data siloed by platform or source, and no more manual uploads/downloads.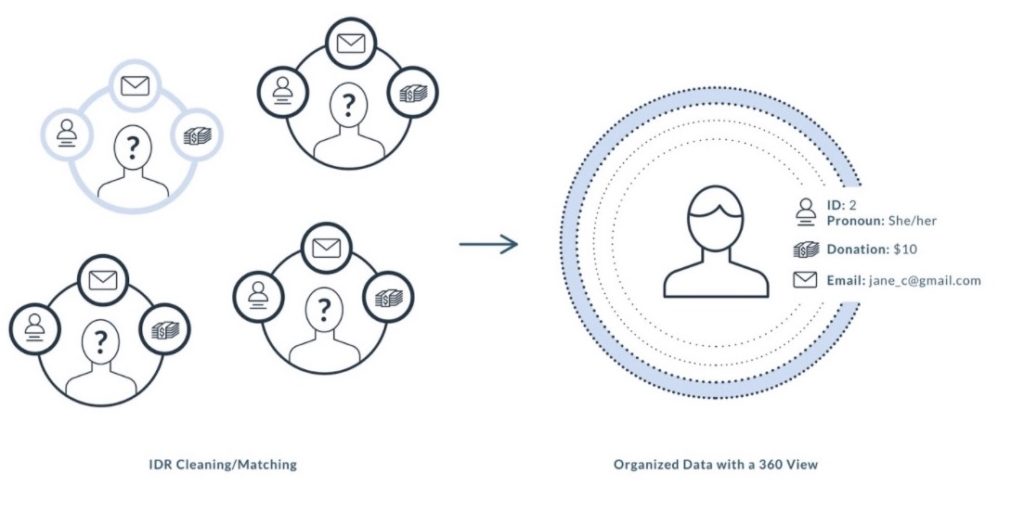 With IDR, nonprofits can resolve donor identities, including names, emails, phone numbers, and other common pieces of personally identifiable information, connecting everything to a stable, universal identifier (see visualization above). Organizations also can match their data with proprietary Civis data assets compiling individual and geographic-level data from dozens of additional sources, and combine it with our models to generate additional insights relating to demographics, consumer preference, and contact information. 
Of particular note for nonprofits, the Civis Platform deduplication process matches system data to a voter file to uncover additional insights on an organization's list of supporters, Moore says: "Things like voting history and voter registration can often correlate in interesting ways with someone's propensity to take action of some kind, or to donate." Civis Platform further supports nonprofits reliant on direct-mail fundraising by offering national change of address appends, guaranteeing that organizations continue to send mail to the correct location regardless of whether a donor has manually updated their address information.  
For HRC, implementing Civis Platform guaranteed the organization no longer reached out to a donor multiple times with the same fundraising request, for example, or used incorrect names for transgender individuals. HRC ultimately realized almost $200,000 in annual cost savings, and heading into the 2018 midterm election cycle, the organization was able to dedicate unprecedented resources into supporting pro-equality candidates, notching a clean sweep in its priority Senate races.
Federated nonprofits can further rely on Civis Platform to seamlessly migrate their data to the cloud. "Most nonprofits don't have the staff to pull off a migration, and to set up all of these pipelines from their existing systems," Moore says. "We provide our team's subject matter expertise, and Platform's graphical user interface, to make cloud computing and cloud storage accessible. That's what Platform offers: the ability to set up the infrastructure and derive insights from data to find the best donor, and serve that donor the most effective fundraising ask."
Now is the time to maximize the potential of your organization's data, and let your data teams do what they do best — make an impact, rather than spending their time and energy on spreadsheets, emailed reports, and other work that should be automated. Email us at [email protected] to discover everything Civis Platform can do for you and your affiliates.