When the snow and ice paralyzed southeast Texas, Houston Food Bank leaped into action. 
The nation's largest food bank in terms of distribution, Houston Food Bank presently serves about 124,000 households across 18 counties, teaming with a network of 1,500 community partners to deliver roughly 800,000 pounds of food per day to Texans in need. The nonprofit also provides nutrition education programs, job training, health management services, and related initiatives to help food-insecure families achieve long-term stability. 
It's challenging work even in the best of times, let alone in moments of crisis — moments like the once-in-a-century winter storms that gripped Texas in February 2021, when the organization distributed nearly 20 million pounds of food and product, up about 1.4 million pounds month over month.
Houston Food Bank is no stranger to meteorological mayhem, mind you. "Since 2017, when [Hurricane] Harvey hit, we've been dealing with one crisis after the next," says Casey Ferrell, the organization's senior director of data and technology. Faced with flooding and other similar emergencies, Houston Food Bank typically responds before weather conditions grow dire, dropping off food at designated warming centers like the George R. Brown Convention Center as well as what the organization calls "neighborhood shelter sites" — food distribution hubs set up at Reliant Stadium (home of the NFL's Houston Texans) and other area locations served by large parking lots, making it easy for recipients to drive through and pick up supplies. 
But February's storms were different. Extended periods of record-low temperatures culminated in electrical grid failures across the Lone Star State, leaving more than 4.5 million homes and businesses without power and triggering widespread shortages of food, water, and heat. 
"This time, there wasn't a lot of prep work," Ferrell says. "Most of the warming centers didn't need a lot of food right away. They thought it was going to be a much shorter period of time that people would be staying there, and having that kind of need." 
Fortunately, Houston Food Bank was different this time around, too. In late 2020, the organization partnered with Civis Analytics to centralize its data systems and gain greater insight into the community it serves. 
"Our data landscape is more complex than a traditional nonprofit, because of the wide variety of programs that we have," Ferrell says, highlighting Houston Food Bank's dependence on hosted services like Link2Feed [a cloud-based food bank/food pantry software solution that serves as its primary client intake system], Lightspeed POS, and Mobilize Comms [a client-intake SMS service]. "We also have the operational and financial data from our ERP, and in the past, trying to combine them all was a struggle. We tried to create our own homegrown data warehouse, but with the small team we have, when one thing failed, it meant we had to stop everything and go troubleshoot it, which pushed deadlines or made it so that something sat in failure status until we could get back around to it."  
With its data unified, Houston Food Bank was able to respond quickly and decisively to the unprecedented winter conditions, combining information on residents whose homes suffered storm damage with existing food insecurity data to develop a demand map identifying those in need within the population the food bank regularly serves, as well as spotlighting additional pockets of demand resulting directly from recent events.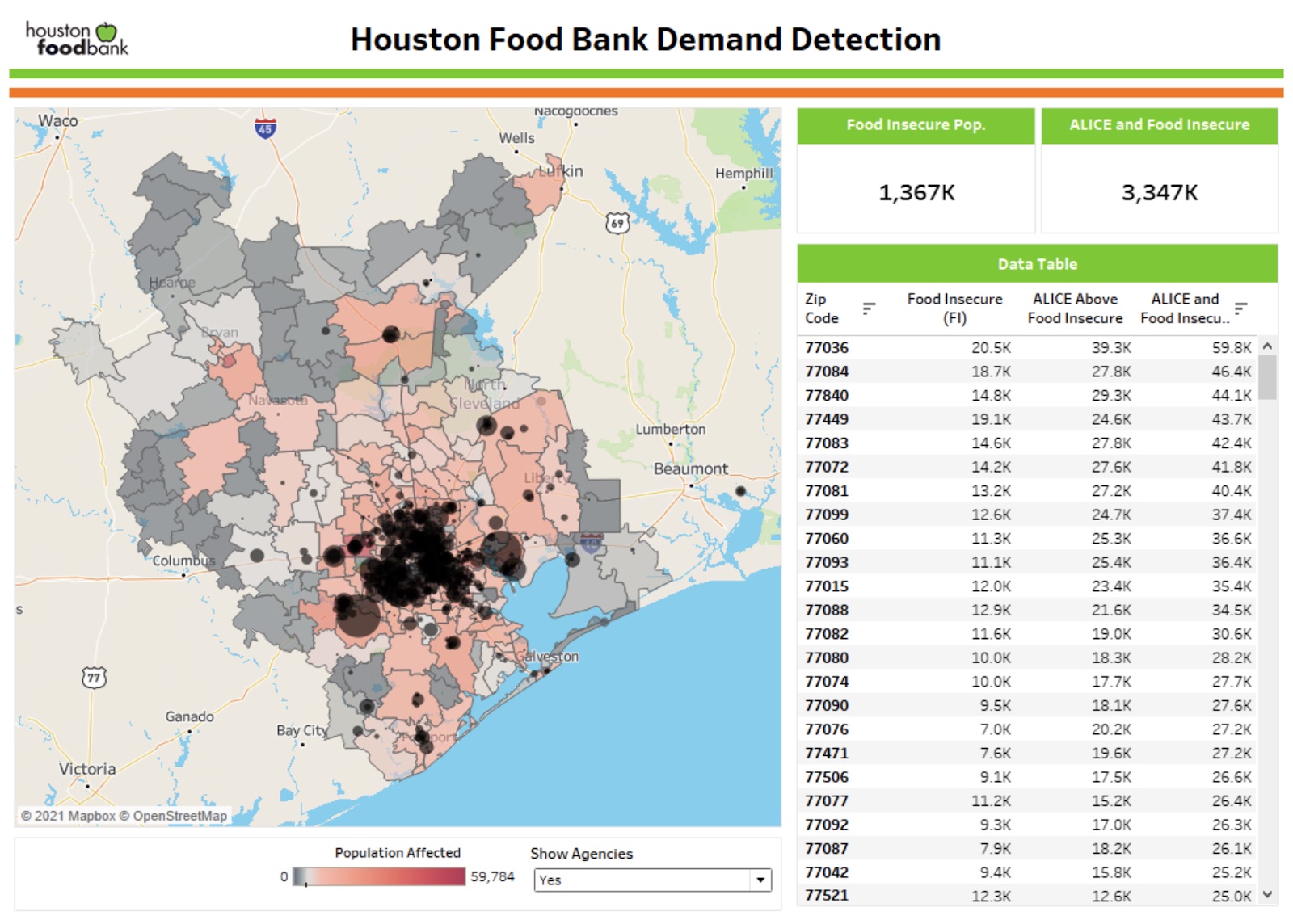 "Knowing where the need was, we could pinpoint locations around the city of Houston that most people could get to, and we started setting up [neighborhood shelter] sites," Ferrell says. "We finally stopped distributing food at those sites about a month after the storm came through."  
Houston Food Bank's efforts did not go unnoticed outside the area. First U.S. Representatives Sylvia Garcia and Sheila Jackson-Lee of Texas joined forces with their New York counterpart Alexandria Ocasio-Cortez to volunteer onsite, packing boxes of meals and sharing their plans to accelerate the recovery process. (Ocasio-Cortez also helped raise more than $5 million shared among Houston Food Bank and other Texas organizations providing either food support, elder care, or shelter assistance.) About a week later, President Joe Biden and First Lady Jill Biden visited Houston Food Bank while in Texas to survey the storm damage: the first couple toured the 300,000-square-foot facility, met with staffers and volunteers, and pitched in to pack up more food.
Moving forward, Houston Food Bank will continue to mine data insights to feed its mission to keep Houstonians healthy, Ferrell states.
"One of the things I'm most excited about is bringing together our client data, so we can start to create client portfolios to know who we're serving, how to better serve them, and where to serve them," he says. "Right now, we have a project ongoing to connect [user] IDs across all of our different platforms to see for the first time the specific people we're serving. That will give us a lot of business intelligence to set up new partners and expand our business, and also to start partnering with other nonprofits, where we can use our resources to increase their success rate."
Houston Food Bank doesn't need data to quantify its community impact, however. The results speak for themselves.
"Our CEO, Brian Greene, always says 'We're not first responders, but we are frontline workers. When the city's in need, that's the time that everybody has to step up.' He expects it from us from the moments prior to a disaster, through the disaster, and through the recovery afterwards," Ferrell says. "Providing food at a time when people are without power and water — when they're already experiencing food insecurity due to COVID, or due to job loss — lets them focus on things like getting their family to a safe place, or to somewhere warm to sleep at night, or anything else that can help them get through a disaster faster." 
Learn about maximizing your organization's impact using data by emailing [email protected].