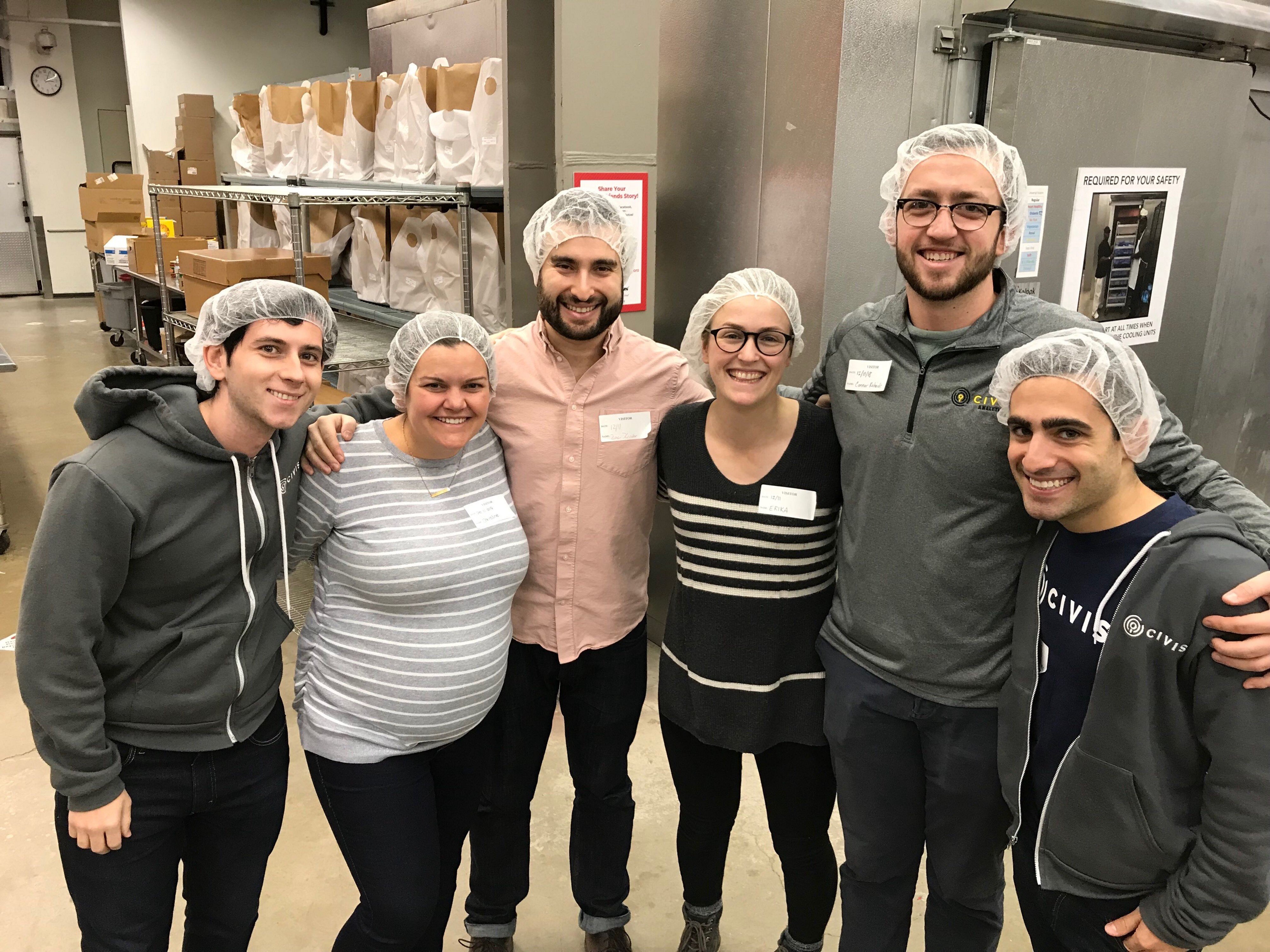 Here at Civis, we understand that data has the power to transform lives. It's our responsibility to use our "data powers" to serve people and improve their quality of life. While we are a company filled with people of unique interests and backgrounds, this commitment to serving our communities is what unites us. To fulfill our passion for philanthropy, we created the Civis for Good program.
Civis for Good is an employee-led effort, uniting teams in serving our local communities and supporting issues that we care about. The program is two-fold — first, we offer "volunteer time off," which employees may use on their own, or choose to join a Civis-organized volunteer day. Some recent philanthropic projects we've supported through Civis for Good include:
Bike Lane Uprising: Bike Lane Uprising (BLU) is cyclist-led civic tech platform that uses data to make cycling safer. Product manager Will Raphaelson rallied a group of Civis employees to gather and upload data on bike lane obstructions across Chicago to the BLU database, ultimately helping activists and policymakers improve bike lane safety.
Cradles to Crayons: Senior data scientist Jackson Lee organized a volunteer day at Cradles to Crayons, where the team sorted donations of clothing and school supplies to create gift packs for children and families in need.
Food & Friends: Food & Friends is a DC-based organized that delivers nutritious meals to those battling HIV/AIDS, cancer and other serious illnesses. Sales and operations support leader David Gins gathered a group of Civis employees to help the organization prepare specialized meals designed to meet the medical and dietary needs of Food & Friends clients.
Civis for Good also provides pro-bono work for organizations that could benefit from data-driven insights, but don't have access to or expertise in data science. Some recent pro-bono projects include:
mRelief: Millions of adults eligible for SNAP (food stamps) are not receiving benefits, and nonprofit mRelief is working to increase enrollment by improving the application process. Civis helped mRelief understand how to improve the Los Angeles process by testing the impact of several potential new features.
USA for UNHCR: USA for UNHCR, an organization that protects and empowers refugees, wanted to drive cash donations (the most impactful form of assistance). Civis ran a test through Creative Focus (our message testing tool) to determine what language would motivate which audiences. From there, USA for UNHCR was able to develop a more nuanced and personalized outreach strategy.
At Civis, one of our principles is to do the right thing, even when it costs us money. Our Civis for Good program reflects this principle and our commitment to using data to help people. We're excited about the work we're doing to impact our communities. You can learn more about our nonprofit partnerships here: https://www.civisanalytics.com/industries/nonprofit/.