It's been 25 years since 311 non-emergency telephone services launched in the U.S., bringing citizens a dedicated three-digit number for accessing municipal information, lodging complaints, and making neighborhood maintenance requests. Back then, the concept was so novel that some cities rolled out awareness campaigns to differentiate the helpline from its emergency-focused predecessor, complete with the tagline "Burning building? Call 911. Burning question? Call 311."
Fast-forward a quarter century, and 311 systems are now an everyday fixture in metropolitan areas from coast to coast, evolving over time into full-fledged, multi-channel community resource hubs providing officials a constant flow of data for operating their cities more efficiently and more effectively.
Few municipalities have evolved their 311 systems faster or further than the City of Los Angeles. Since taking office in mid-2013, Mayor Eric Garcetti has spearheaded a series of initiatives revolutionizing how the nation's second-largest city manages, shares, and applies data across all branches of government: in 2016, the MyLA311 service was overhauled to unify its disparate service request systems, enabling the city's 3.8 million residents and government employees to access all 311 requests and status updates through one centralized location.
Los Angeles now services thousands of MyLA311 requests each week, with many tasks completed between 24 to 72 hours of receipt, says Preston Mills, who serves as community data manager for Mayor Garcetti's data team. MyLA311 connects residents to more than 1,500 services in all, from parking enforcement to animal control: requests for these services come in via traditional 311 phone calls, as well as the MyLA311 website and mobile app, and are automatically relayed to the appropriate city department.
But automating 311 processes is just one facet of the city's vision for its MyLA311 data, Mills says. "The other component we've been working on in the mayor's office is making sure that as much 311 information as possible is being made public, so that folks are able to better understand what's going on in their communities — and can hold us as a city accountable to whatever is most needed."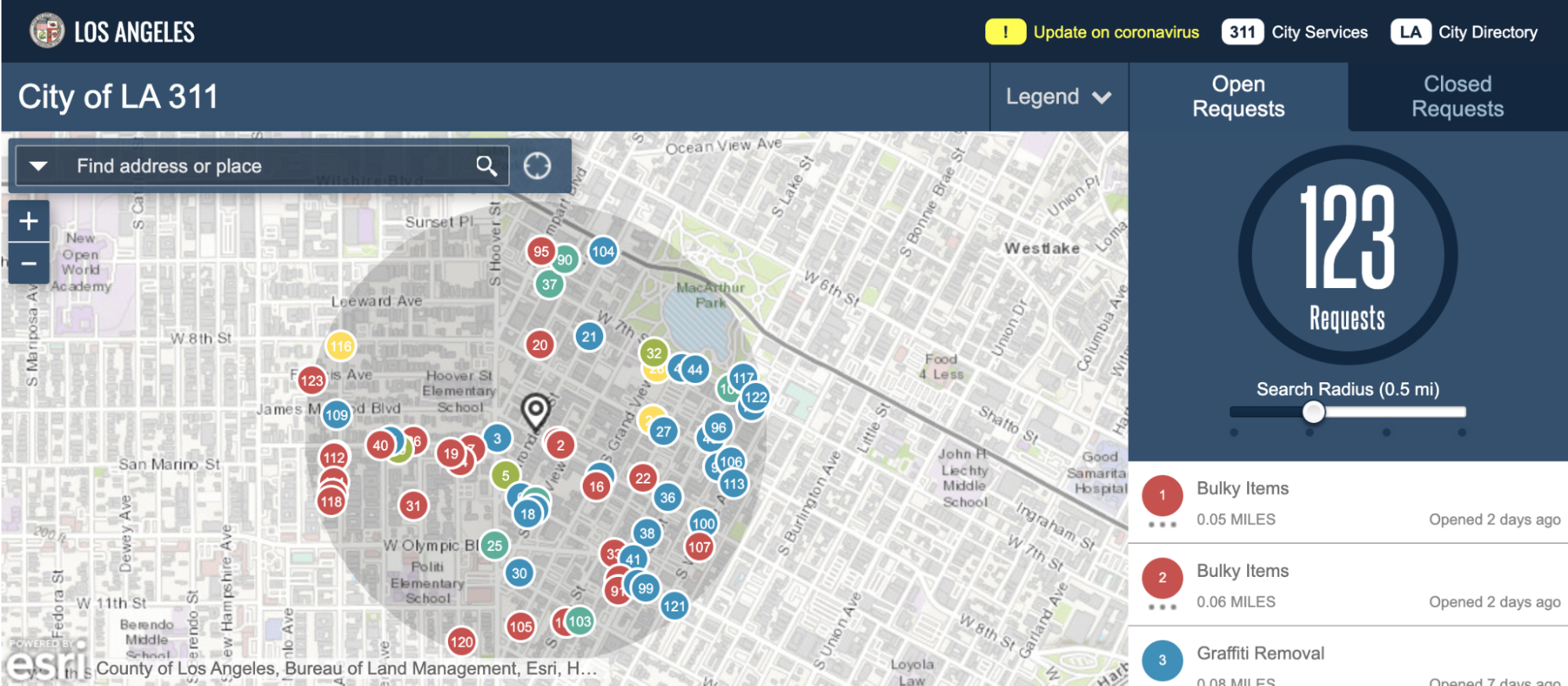 This push for access and accountability guides the city's latest data-driven effort, the Know Your Community Initiative, a digital resource for Angelenos to learn more about the world just outside their front door. In addition to public data on open 311 calls, including searchable, real-time maps depicting all 311-related activity within the user's immediate vicinity (see above), the platform — which was soft-launched in August 2020, with a larger, more public unveiling slated for August 2021 — supplies updates on construction and road repair projects, as well as information on local events, neighborhood demographics, and other topics of interest (see below, or click here to access the Know Your Community website directly).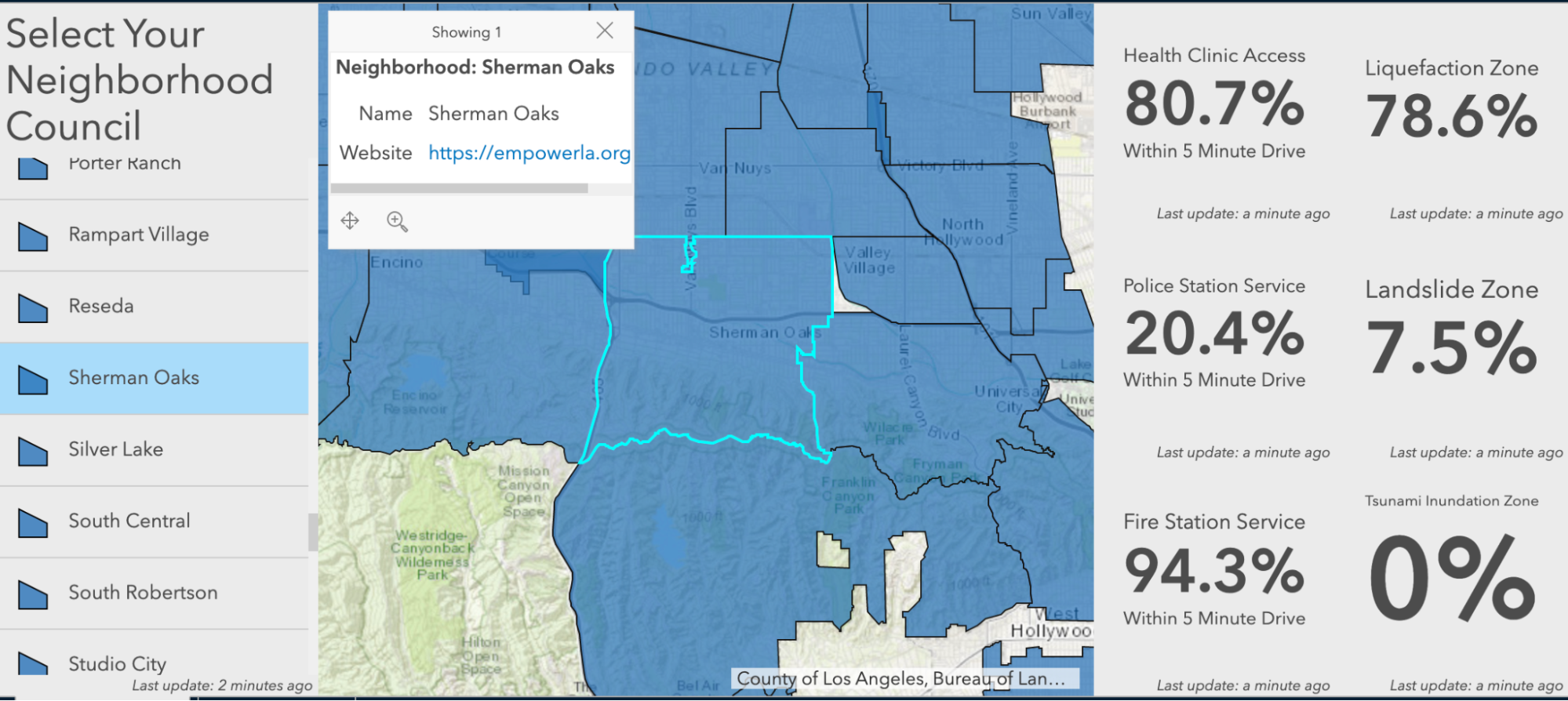 Mayor Garcetti's data team developed the Know Your Community Initiative in partnership with the Department of Neighborhood Empowerment, a support agency overseeing the City of Los Angeles's 99 Neighborhood Councils — grass-roots advisory bodies who advocate for their communities on a range of pressing issues.
"Neighborhood Councils address things like homelessness, housing, and emergency preparedness, bringing in additional resources and strengthening the capacities they already have," Mills explains. "One of the things that's a really great marker for helping to strengthen capacity is leveraging data — understanding what's happening in these neighborhoods. In building the Know Your Community platform, we tried to take advantage of things like our MyLA311 data, our permit data, our voting center data — all kinds of data we have readily available that has geo-specific information related to it, so that folks can type in their address and look at things like 'What Neighborhood Council do I sit in?'"
Information presented across the Know Your Community platform originates via LA's Open Data Portal and GeoHub, online portals offering community members access to all of the city's public data. "We're close to wrapping up all of the different platforms so that it can be one, unifying hub," Mills says. "I wrote a script that essentially takes our data, geocodes it with its latitude and longitude so it's in the data set, and brings it over to our geospatial platform, where we built a web app for the public to learn about what specifically is happening in their neighborhoods."
The Mayor's data team also is expanding its data literacy program by building out models instructing community members on how to make their own data maps, how to filter 311 data in the Open Data Portal, and even how to create their own web apps.
"Linking the Know Your Community platform to an actionable step in honing your own data skills is the next component we want to marry as we do the harder launch, so that as we launch out a new GeoHub, we're able to say 'Here's the data, here's some quick ways in which you can know what's going on with the data, and here's how you can leverage it yourself. Also, here are some examples of how other community members have leveraged it for themselves,'" Mills says. "We're looking to engage the community as much as possible, and make a better LA."
That "better LA" is already coming to pass. Mills says the city is using data to improve and innovate a wide range of practices — for example, analyzing MyLA311 requests from a geospatial perspective to re-route its street-sweeping map and more equitably address the concerns of community stakeholders.
"Building a platform that's more accessible also allows us to partner with a lot of new stakeholders, like Hack for LA and other nonprofits tasked with building out tools for our city to refine our practices and policies," Mills adds. "They're able to leverage Know Your Community as a baseline to give us feedback on how to build more streamlined dashboards internally to address some of these issues."
It's a long way from legacy 311 services, to be sure. But the emphasis — engaging and empowering the community at large — remains the same across the decades.
"We've done a lot of surveys and conducted a lot of interviews, and a lot of folks said they want readily and easily accessible information so that they can bring it back to their Neighborhood Councils and say 'This is an issue. This needs to be fixed,'" Mills says. "All of that led us to build this platform. It is not a platform that only caters to our data scientists, or only to students across the world or to private institutions that are using it to better their services. We decided to make something for everyone."
Civis Analytics is helping the City of Los Angeles live up to its promise to the community by making sure its data is clean, unified, and accessible. We can help your city engage and empower its residents, too. Email [email protected] for the 411.